Shop Bundles
get started
Basic Bone Strength Bundle
Support and maintain strong bones long-term
Sale price
$155.00
Regular price
Unit price
per
full strength
Ultimate Bone Strength Bundle
Maximize support for better health and stronger bones
Sale price
$246.00
Regular price
Unit price
per
Shop Products
Sale price

$155.00

Regular price

Unit price

per

Sale price

$246.00

Regular price

Unit price

per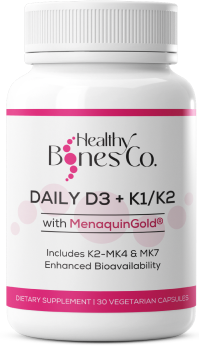 Testimonials
Success Stories
I personally like the D supplement amount at 2000IU and it includes both K1 and K2 . Also, the magnesium supplement as a chelated magnesium bisglycinate is likely a better choice than the magnesium carbonate for me since I regularly take the Calm product for my magnesium.
Vicky C.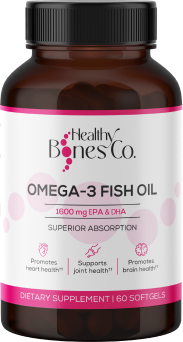 Testimonials
Success Stories
The Collagen Peptides is a great product, dissolves easily in hot or cold liquids, and is flavorless! The OsteoElements Pro is very easy to swallow which is a plus for me! I take two capsules twice a day and tolerate them well. I have also been taking the Omega-3 Fish Oil at night. The gel tabs are soft and easy to swallow and there is no fishy taste. I am confident the products are of the best quality.
Tami J.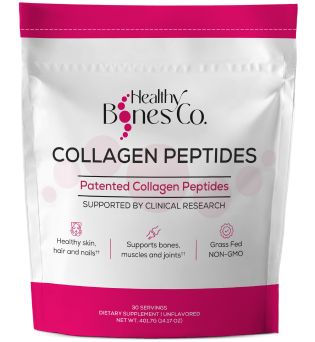 Testimonials
Success Stories
I have been trying out a new product from Healthy Bones Co. The product that I have been using is their Collagen Peptides. I normally use another brand, but since this brand has a blend of bioactive collagen, all proven to benefit your bones I thought I would give it a try and I have to say it didn't disappoint! This product is not powdery, or clumpy. It blends nicely in my yogurt, in my soaked oats for added protein and is fantastic in my smoothies! I love that it has no taste so I can put it in so many things without worrying that it will alter the taste. I even added it to my scrambled eggs and it worked just fine in heat. I liked this product so much that I have already put in an order for two more. I highly recommend this product!
Zsa Zsa C.
Testimonials
Success Stories
. . . I have complete confidence in Healthy Bones Co.'s products. Thus far, I have tried the liquid vitamin D3/K1&K2 as well as the Turmeric Curcumin. I like having the liquid form for the D3 and the fact that it is combined with the K vitamins for better absorption . . . I discovered some gut issues that had blocked absorption and know how important this can be. I want to be sure my D3 is in a good range to help with calcium absorption for bone health. I like that the Turmeric Curcumin is also highly absorbable and has so many health benefits. Its slick covering makes it truly an "easy pill to swallow." I look forward to researching more trusted products from Healthy Bones Co.
Andrea M.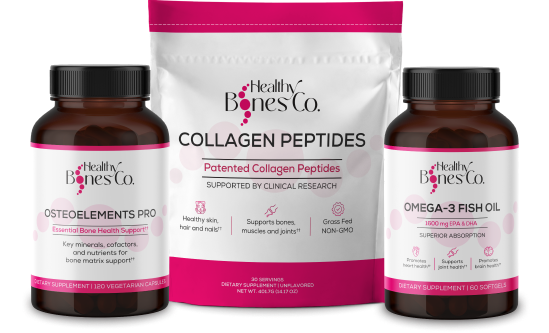 Testimonials
Success Stories
Every person diagnosed with osteopenia or osteoporosis would benefit from the Basic Bone Strength Bundle. So grateful that I found the Healthy Bones Co.
Lynne S.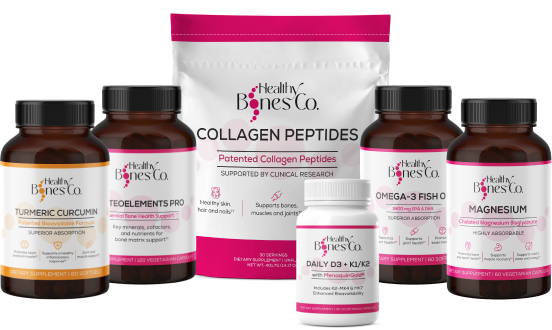 Testimonials
Success Stories
The Ultimate Bone Strength Bundle is everything you need to start experiencing the difference! I love that I can consolidate my daily supplements into 6 amazing products!
Janet T.